Photo: Dr. Ing leads a fetal cardiac simulation for the fetal team using grapes and jello
Families in inland Northern California and beyond now are able to benefit from advancements in fetal surgery and maternal-fetal medicine that allow for in utero intervention.
Based at UC Davis Children's Hospital, the UC Davis Fetal Care and Treatment Center was launched in 2016, offering the first comprehensive multidisciplinary fetal diagnosis and therapy center in inland Northern California, which ranges from open fetal surgery to image-guided and needle-based interventions.
The center added the arrival of Dr. Frank Ing, chief of pediatric cardiology and an interventional cardiologist from Children's Hospital Los Angeles (CHLA), last February.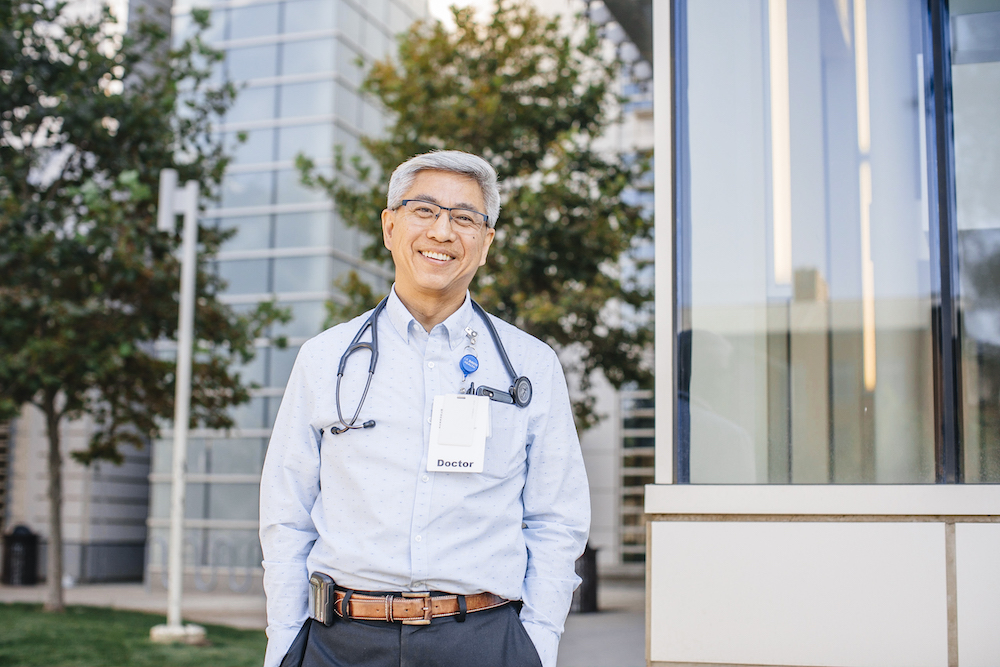 While in Los Angeles, Dr. Ing performed many fetal cardiac interventions, including performing the first fetal aortic valvuloplasty procedure in Southern California and performing the first in utero atrial septal stent procedure at CHLA.
Dr. Ing is now bringing his expertise to the inland Northern California region, adding fetal aortic valvuloplasty and atrial septal stenting to the growing services now offered to improve congenital heart defects that are detected before birth.
Fetal aortic valvuloplasty
When a baby is diagnosed with critical aortic stenosis that is at risk for progressing to hypoplastic left heart syndrome (HLHS) in utero, the team at UC Davis Fetal Care and Treatment Center can perform a procedure called fetal aortic valvuloplasty.
The procedure uses a needle and a tiny balloon to enlarge the narrow aortic valve to increase blood flow through the left side of the fetal heart, which will lead to improved left heart function and promote normal left-sided heart growth.
If untreated, critical aortic stenosis and HLHS can be fatal. By performing this procedure before birth, it can promote improved growth of the left-sided heart structures and lead to fewer surgeries after birth.
Atrial septal stenting
When a fetus has hypoplastic left heart syndrome (HLHS) with restrictive or intact atrial septum, the team at UC Davis Fetal Care and Treatment Center can perform this fetal procedure to decrease the high mortality associated with this combination of lesions.
In this procedure, the atrium septum is further opened with stents, which decompresses and allows blood from the lungs and left upper heart chamber (left atrium) to flow back to the right side of the heart.
This helps prevent damage to the fetus' lungs, decreases pressure in the left atrium and allows the fetal lungs to develop normally.
Only 50 percent of babies with HLHS with intact atrial septum survive to go home after birth. This fetal procedure offers hope of minimizing the life-threatening or potentially disabling condition affecting the fetus, helping to both facilitate safe delivery and potentially improving long term outcomes of the child.
"These interventions were not possible 20 years ago. We are continuing to break new barriers with fetal cardiac interventions and I'm proud to provide my expertise at UC Davis Children's Hospital to help these babies," said Dr. Ing.