12 year-old Aspen Somers contributes her first blog post to the Fetal Health Foundation.  After Aspen and her sister Ashley were saved by laser surgery for Twin-To-Twin Transfusion Syndrome, her parents began their work to help others affected by fetal syndromes.  Now a diligent student and energetic young lady, Aspen is making her dream of a life on stage come true.  In this post, she writes about her inspiring experience with the magazine Discovery Girls. 
When I was seven years old, I lived in a world where everything revolved around me; where I was the single most important thing that ever walked the Earth.  I simply could not understand why I wasn't performing in front of sold out crowds opposite Jackie Evancho and had yet to star in a major feature film.   I do admire that confident little girl, and I hope that other little kids can have that same hope and happiness that I did, but I do not want to be that girl anymore.
When I was eleven, I would look at actors on TV, people in magazines, even the performers who got leads in local shows as these superior, amazing creatures.  I thought I was just an insignificant speck of a huge world. I wouldn't want to be that girl again, either.
My favorite magazine, Discovery Girls, advertised that they chose 36 real girls to be the "Discovery Girls" for that year, but all the girls in the magazine seemed like images of what everybody wished they were.   When I saw the application for 2016 was open, the questionnaire seemed like it would be fun to fill out, and I always have a lot of ideas, so I decided to apply, even though I thought there was no chance I would get in.
I was looking back at that magazine that had the Summit information a couple days ago, and I remember thinking how amazing it would be if I was one of those girls, but I just didn't think I was "important enough" to be chosen.  Some of them had worked for Disney, some of them had successful businesses and grand ideas, some of them looked like mini models.  I just felt like I was "too real" to have a chance of getting chosen.  Still, when it came time for them to announce the Discovery Girls, I secretly hoped I would be chosen.  But, the end of May came and went, and we didn't hear anything from Discovery Girls.  I knew thousands of girls applied, so I didn't expect it.  I happened to be on their website about a month later, and I saw something about how they had postponed contacting their choices until July.  A couple nights later, my mom was scrolling through an email from Discovery Girls, I got selected!
Many of you know Ashley and I had TTTS before we were born.  There was a good chance that I could've never lived, and if I did, doctors suspected that there would be other complications; I might have never been able to walk, or never understand and learn things like normal kids.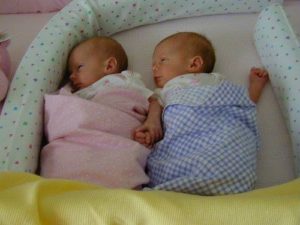 But here I am, not just walking but twirling and flap ball-changing through life, and maintaining a 4.0 GPA even after skipping a grade.
When I got into Discovery Girls, I had a new confidence.  I should probably say that everyone who seemed so superior now seemed like normal people, too, but that's not true.
 Instead, I started to see that everyone was extraordinary in their own ways.  I started to understand that if I set my mind to things and didn't give up, I could accomplish them.
This was the second or third time I applied for Discovery Girls, but I didn't give up when I didn't get in the first time, and it paid off.  Six days after I found out about Discovery Girls, I got one of my dream roles in a show.  In my profile for DG, I used the quote "Even if you're little you can do a lot, you mustn't let a little thing like little stop you."  I think this is true for everybody, no matter what physical size they are, because everybody has things that get in the way of them following their dreams, or that they would want to change about themselves, but Discovery Girls taught me that insignificant things can't stop you from doing what you love.  In theater, they say that you have to get 99 no's before you get one yes, but I believe this is true in all aspects of life.
My parents were probably told 99 times that they couldn't save my sister and me, but finally someone said yes.  If they had stopped trying after one no, I definitely wouldn't be here right now.  
Now, I don't think that I should be the most famous person in the world, or that everybody who is more successful than me is perfect, but I believe that "everyone deserves the chance to fly," and people say nobody's perfect, but everybody has a different perspective of perfect, so I think maybe everyone can be perfect.  I really hope that everybody is as determined as my parents so that other kids have a chance to follow their dreams just like I did.
The Discovery Girls Summit, where I went to California for a few days to talk about the magazine and participate in endless photo shoots, was an amazing experience.  I was really nervous because I didn't know any of the other girls except Sarah, who also lives in Colorado, but I had only talked to her on the phone for ten minutes.
When I got there, everyone was waving me over and it was like we had been best friends for years.  It was such a great experience to meet everyone from all different parts of the country and Canada, and we all were so different but had things in common.  When my issue came out; it was the first one with the 2016 Discovery Girls, it was really cool to see myself in the magazine.  It didn't seem real until I actually saw my magazine.  Even though everyone was pretty much best friends, I still learned a lot about my friends from their profiles.  Everyone had very different experiences, but now I have best friends pretty much everywhere I go, which is really fun.
Discovery Girls was such an awesome experience that really changed my life and I'll probably remember for the rest of my life!
—
Read Aspen's Discovery Girls' Summit Diary
Learn more about the fetal surgery that saved Aspen and her sister.
PS: Aspen, we think you are absolutely extraordinary! -FHF