Dr. Ramen Chmait of Los Angeles Fetal Surgery serves on the Medical Board of Directors for the Fetal Health Foundation
It's no secret that spina bifida repairs are happening all over the country and miracle babies are being born with a better quality of life than ever before. Yet, with fetal surgery and the standard way of repairing the anomaly, there are still lots of risk.
"We have a unique approach that is a technique first established in Brazil by Dr. Lapa, and we brought it over to the United States. Dr. Quintero and I have put together a fetoscopic treatment that is FDA approved to repair open spina bifida, that is entirely percutaneous (there is no laparotomy and no hysterectomy)," said Dr. Ramen Chmait, Director, Los Angeles Fetal Surgery.
The risks involved with the surgery are fewer to both mother and baby due to less anesthesia involved, and obviously, fewer incisions on the pregnant mother. Several tiny holes are made for the fetoscopic surgery that are likened to those made for a gall bladder surgery.
All the principles in regard to the repairs to spina bifida are essentially the same as everywhere else, with the exception to the mother — it's entirely minimally invasive. He and Dr. Quintero, Founder at The Fetal Institute, are conducting a pilot study under supervision of the FDA and are hoping to expand to a larger study in the near future.
The Fetal Health Foundation has been working with specialists just like Dr. Chmait and Dr. Quintero since its beginning in 2006. Serving as a liaison between patient families facing a diagnosis and the medical care teams that provide care, the Foundation has been able to continue and grow its support in the fetal health community by adding funding of annual Research Grants, a robust online repository of syndrome information and content-specific blog.
"From the date of inception, our organization has been supportive of the Fetal Health Foundation. I met Lonnie Somers the day he arrived in Tampa for fetal surgery for his own twins to treat TTTS," said Chmait.
The Foundation continues its mission through donor support, its Hope Stewardship Circle program, and Connexions magazine, as well as annual events like the upcoming Colorado HAL Run, and awareness and fundraising campaigns, such as the recent National Fetal Syndrome Awareness Month.
"Seeing where the Foundation has come has been absolutely amazing. There are so many ways to save lives and from a logistical and informational standpoint, this has been nothing but a positive for a group of patient families that before had no place to go".
Learn More About Spina Bifida:
More details about the surgery: 'She's wiggling her toes': New fetal surgery for spina bifida may be safer for both baby and mom
NBC News, Los Angeles| Watch Dr. Chmait meet the baby on whom performed surgery in Utero: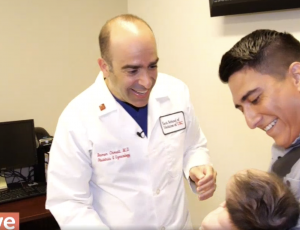 VIDEO: Fetal Surgery to Treat Paralysis Associated with Spina Bifida
My Son's First Surgery for Spina Bifida
Spina Bifida Research at UC Davis Provides Hope